ROMEA STRATA LONGOBARDA NONANTOLANA WAY
Via Romea Strata was the name of an old road system that connected central and eastern Europe with the Italian peninsula
759 km / 186 km in Emilia-Romagna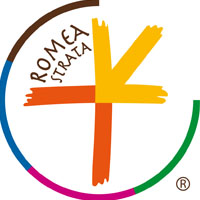 Via Romea Strata was the name of an old road system that connected central and eastern Europe with the Italian peninsula passing through the north-eastern passes of the Dolomites and continuing toward Rome.
After crossing the River Po the routes came together in Emilia Romagna at Badia Polesine where they dropped in altitude toward the Abbey of Nonantola, a place of religious importance and study, joining the same section of the Romea Nonantolana Way and proceeding toward the Apennine villages, Fanano and the Croce Arcana pass. From here the route dropped again toward Pistoia, Fucecchio and San Miniato where it rejoined the path of the Francigena Way.
It is precisely on account of its continental character that the Romea Strata Way is now a journey through
European culture, but also a journey of discovery in the most significant spiritual place of the Italian peninsula.
Intersections
The Romea Strata Way – the Lombard Nonantolano section – joins the Romea Nonantolana Way and the Piccola Cassia Way.
The Romea Strata Way – the Lombard Nonantolano section is listed in the Atlas of Paths of the Mibact.

Before setting out, always consult the institutional websites of the individual Paths for up-to-date information.
TOUR OPERATORS
ModenaTur
Via Scudari 8
Modena 41100 (MO)
Petroniana Viaggi
Via del Monte 3G
Bologna 40126 (BO)
In cammino lungo la Via Romea Strata Longobarda-Nonantolana. Prendeva il nome di Via Romea Strata un sistema viario di antichi itinerari che collegavano l'Europa Centro-Orientale con Roma.
events & experiences
no results available
Other Proposals of the Territory